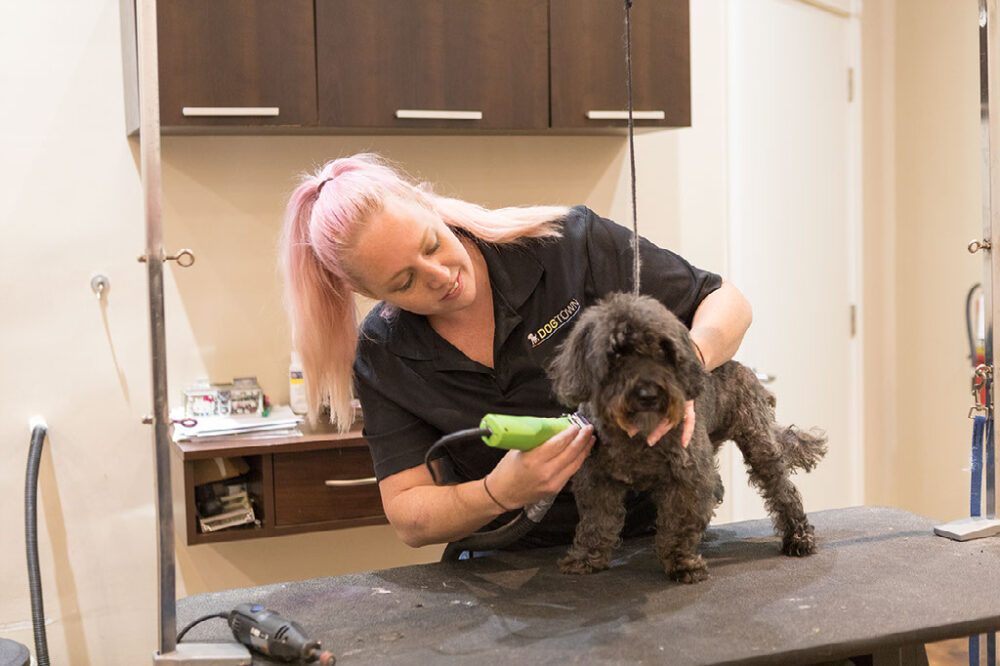 The Spa at Dogtown
DOG & CAT GROOMING IN JACKSONVILLE, FL
Call Today (904) 719-6198 to Speak to a Spa Specialist
Our professionally trained staff understands that no two pets are alike. With over 25 years of experience our stylists are the best groomers in Jacksonville and specialize in creating a stress free, customized experience that caters to your individual pet's needs.
The Spa at Dogtown, located at 11740 San Jose Blvd in Jacksonville, FL will get your pet looking and feeling great guaranteed. We offer full-grooming services for all breeds and with St. Bernard's Animal Hospital on site we can even handle those dogs that have special medical needs.
Drop your pet off at the Spa or add spa services to any overnight stay or daycare visit to give your loved one the ultimate day at Dogtown.
BENEFITS OF DOG GROOMING
Maintains Healthy Coat & Skin
Helps Reduce Pet Odors
Early Detection of Health Issues (teeth, skin redness, fleas, ticks, etc.)
Nail Trims Reinforce Healthy Foot Structure & Posture
Reduces Allergy Triggers in your Home
Cooler Pet in the Summer
Call Today (904) 719-6138 to Speak to a Spa Specialist
 Open Monday – Saturday: 6:30 am - 7:00 pm
Sunday: 9:00 am - 5:00 pm
Dog Grooming in Jacksonville, FL
Regular dog grooming in Jacksonville, FL, is one of the best ways to ensure that your pet remains happy and healthy. The skilled staff at our all-inclusive dog resort understands just how important grooming for dogs truly is and is ready to provide impressive spa services to not only help you keep your pet attractive but to also ensure he or she is in the best possible health.
Are you already taking advantage of our dog boarding or daycare services? Then why not make a visit to our dog groomer part of your pet's exciting day with us? We happily make time for our scheduled guests to visit our groomer during their stay. That means when you come to pick up your furry friend, not only will they be excited to see you, but they will also be fresh and clean.
The Importance of Regular Grooming for Dogs
Dog grooming provides a number of wonderful benefits to you and your dog. That is why it is a smart idea to ensure they are receiving regular appointments with our dog groomer. With our help, your pet will be able to maintain healthy coat and skin while ensuring they look and smell great.
Furthermore, regular visits may result in the early detection of issues with your dog's teeth, skin, ears, and other extremities. Our dog grooming services also include regular nail trims, which not only helps to keep the nails nice and short, but is also a good way to reinforce healthy foot structure and posture. This can reduce the risk of infection for many dogs. Hoping your dog will shed less? With our help, the shiny, healthy, and properly brushed coat of your dog won't leave a sweater behind every time they get up after a nap.
The Right Team for the Dog Grooming Job
The main goal of our dog grooming spa is to ensure that your dog has a safe, stress-free experience as they are being pampered by our trained groomers. That is why we remain very attentive to each dog's individual needs and allow for frequent rest breaks if the dog requires it.
Additionally, our spa is a proud member of both the Dog Gurus and the International Boarding & Pet Services Association. These organizations have made a name for themselves by setting the standards of proper pet care and by providing dog facilities all over the world with education about how to ensure the health and safety of their guests.
Contact us for more information about improving the appearance of your pet. Our dog grooming services are available to pet lovers located throughout Jacksonville, Florida.